QUERCUS garryana – Oregon Whte Oak – Garry Oak
Plants will vary in price and container size Some will only be available during dormancy – late Fall or early Spring — and will be updated this winter. Seed or plant exchanges are always welcome!
Go directly to Plants: A  B  C  D  E  F  G  H  I  J  K  L  M  N  O  P  Q  R  S  T  U  V W Y  Z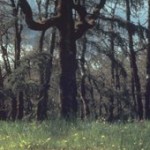 The Garry Oak can actually be considered as one of the most beautiful choices as a shade tree. Though slow growing, it casts only moderate shade and has a very deep and well-behaved root system. Large specimens can be 75-100 feet height with trunks up to five feet in diameter. These trees can be 500 years old, and even smaller trees only 30 feet high can be 200 years old. The other native oak in the Northwest is the California Black Oak. Q. kellogii Though faster growing, it is shorter lived, but as they will live some 200 or 300 the gardener should have little reason to complain. The Garry Oak will grow some 40 to 90 feet height with a spread to match. It is not for the small garden. 🙂
It's deep root system makes it a wonderful tree to plant rhododendrons under, or other native plants. The shade cast is a filtered one so it is a great choice for such plantings. I am offering 4-5 year old trees that are growing in two gallon cans for $9.95 and large flat rate shipping.
All plants can be picked up at my place given notice. Hope to see you soon. The Google Map..
(Visited 231 times, 1 visits today)