Most Medicine Wheels or Prayer Gardens represent the element of the circle. The circle represents the world and encloses everything within. The circle is divided into four quarters according to the compass. Each quarter has it's own powers, colors and symbols. These vary from tribe to tribe.
My own had the addition of a smaller inner circle in which where placed the rocks of my parents or other friends who had finished walking the outer circle.
The outer quadrants were planted with perennials that had the colors I wished to represent the four seasons.
As the West (fall) leads into winter I chose the darker colors of fall, red's and even black to represent closure.
North is usually white, because winter comes from here. It is a cleansing color and has the power to heal.
East is the color of spring and the first beginnings of buds swelling, it has the power to bring forth life. Green.
South is the summer and brings with the strong sun, warmth and the power to grow.
I feel that we all begin in the Sign we were born and move with the seasons to the next — winter to spring and so on, until we leave that circle and travel to the circle within.
Into each quadrant my friends placed their own rock to celebrate our connected journeys. As they passed on I moved the rock into the smaller circle in the center.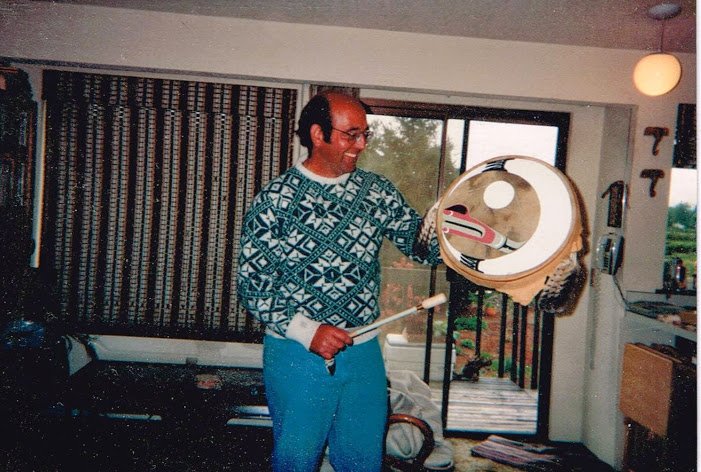 I have also made two drums of my own, beginning with the curing of deer hide. I did however ask a friend to make one based on a dream and experience I had. He would later add a Medicine Shield.  John Herrara was a talented Modoc native artist who did not fit in with the local tribes. Like so many would get entrapped by law and in his case a bitter divorce. In hind site, he should have been concentrating on making his own.

The medicine shield  was made of:
Colored cloth
The streamers invoke the powers of the Modoc Spiritual World.
The Owl symbol
Is that of your vision and your visitor as are the two feathers.
The Horn
Is of the Prong-horned Antelope. This refers to the swiftness and survival powers of one of the purest plains animals.
The Star
Is part of the vision of sky powers.
White Duff
Assists in making sound decisions, clearly — because of it's spotless color.
Herb Senft (C) 2015

(Visited 12 times, 1 visits today)