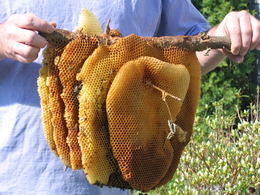 In trying to convince myself to get back into beekeeping, I had just finished having a long conversation with a friend regarding honey and explaining that we now import most of our honey from China. **
Need I say, you never know what is in that, same with some Orange honey – stick to native plants, wildflower honey – local is best for a lot of reasons – on and on.
He responded that we also get some from South America "The honey from Columbia … do you suppose it has marijuana and poppy pollen in it?
I understand those are the two biggest agricultural crops in Columbia."
Had to burst his bubble. NO. Cannabis has no nectar, the main ingredient of honey and I do not think it is insect pollinated. Wind does the trick.
Poppies are visited by bees but it is for pollen. You will find them busy on California Poppies but it is for pollen not nectar. This is not to say that bees do not get drunk sometimes, they do, but those who imbibe fermented nectar suffer the same fate (and worse) than humans – they have many more flying accidents than sober ones and can sometimes forget how to get back to their hive. This usually means dying in the grass. Even if they make it back to the hive to drunkenly dance off their find, they can be rounded on by other bees who punish the drunken bee by chewing off its legs. They have little forbearance when it comes to under-performing sisters.
I also went on about the different tastes of honey and the fun it was in extracting 'varietals.' Poison Oak, Eucalyptus, Madrona, blackberry etc.
Questioned" I've never been able to figure out how a bee keeper knows where his bees were collecting pollen, and say "This is 100% Clover Honey" or whatever.
Don't the bees go in different directions and get pollen where ever they find it? Could not ragweed pollen, for example, be mixed in with the clover pollen?
Only if you use shallow suppers can this be done. As a plantsman I always kept notes as to what flowers were being worked during that time frame and put a sticky on the super and in my notes. Honey is also different in color and even SMELL. Poison Oak was very clear and delicious, Eucalyptus blooming at the same time was dark and just okay. So when you extract you extract from the same type frames.
This is rarely done, only by nuts like myself and Ormand Aebi. Most beekeepers mix their honey anyway to blend the flavors. Now here in Sequim we have Madrona which makes a damn fine honey, blackberries, fireweed and a delicious honey comes from a native shrub, Meadow foam.
These are all distinctive honeys and Sequim Bee Farm makes an excellent product.. Some things like raspberries (grown here) produce little in the way of honey. MINT that used to be grown in Chehalis area made a dynamite honey.
Some honey, like Orange I wouldn't eat if you paid me. The citrus is sprayed, sprayed and sprayed. Clover usually is not, nor are wildflowers such as fireweed.
Ended with a commentary on health/allergy benefits. ***
Honey, if properly purchased from a beekeeper that keeps track can also prevent allergies of all sorts.
In the winter you eat last years Spring honey; in the Spring you take the local June – July wildflower and bulk production. In summer you take the last takes, asters/ Goldenrod, August Sept. flowers. Usually beekeepers do not sell much of that as the late product often crystallizes up and does not taste or smell as good.
Tar-weed honey comes to mind. Aster/Goldenrod usually is dark and smells something like sweat socks. Tasted okay, but did not smell good.
"Might make a good Aster honey mead. "Aster Blaster Mead. – knock your socks off."
** Asian honey is banned in Europe but our gutted FDA allows it in, worse yet some is smuggled in – up to one-third of all our honey is smuggled in from China and may have pesticides, heavy metals or illegal antibiotics. Europe considers it unsafe. We do not.
The process of heating and filtering of honey removes all the pollen from that "HEALTH" food. IMO, without pollen, it is simply another sugar intake.
Be it KFC, Smucker, McDonald's, Walgreens, Rite Aid 100 percent of the honey sampled had no pollen.
"77 percent of the honey sampled from big box stores like Costco, Sam's Club, Walmart, Target had the pollen filtered out." Another reason to buy local honey or raise your own. Same with EGGS – my chicken ranch is going chitteringly and at least will be delivering eggs far before I ever get any honey.
HINT! Use shallow or medium supers and only use a full super for the brood chamber and the overwintering box on top." I actually reduced the size of the original 10 frame Langstroth hive to an 8 frame, meaning it will be at least 10 pounds lighter and easier on this old duffer's back.
Negative to this being that the narrower profile may make it more tipsy if loaded high. Something this beginning hive manager will have no problem with. The other smaller hive I am experimenting with is the Warre Hive.
Note about swarms in the Pacific Northwest. I am hoping for one more swarm before JUNE and the cool weather is not cooperating.
Interesting $$$ Bee info: One can buy a 5 frame which includes finished foundation, comb and honey, active bees and a queen for 150.00.  Now, you can buy a QUEEN for 40 dollars and shipping. The queen introduction to a queen lacking hive sometimes fails so you just threw away 50 dollars.
Nucs vs. packages.
The five frame nuc is the far better option for the beginner – you have the bees, queen and finished comb which I do not have. Basically the equivalent of a good swarm plus the frames and foundation. Caught swarms depending upon the breed and size of the swarm will take up to two months to build that comb on virgin foundation.
Weather plays a huge roll. Cool weather will put an end to swarms and those caught after JUNE will probably not be strong enough to survive a winter unless combined with another.
Worse yet, the last swarm call I went out on was a YELLOW JACKET nest. 🙁
Italian Queens–
Italian Queens– Their attractive blonde coloration make queen locating less difficult. Superb comb builders. Very gentle, Very Productive but tend to rob other hives.
 Carniolan's  are much darker
Forages on colder and wetter days than most other bees. Overwinters well on small stores, as queen stops laying in the fall. Explosive build up in early spring. Exceptionally gentle and easy to work.
The worker bees will only live for about six weeks, but the queen may live for several years, all because of the food they were fed while growing as larva. Swarmed 'older' queens may need to be replaced as their productive time has come to a close.
Be it in the choice of hives or breeds I understand I will make mistakes. There are many new things to learn and that is always a joy. As with plants we tend to learn more mistakes…especially from our own.
Here are a few beekeeping mistakes that I have heard of: 🙂
One aspiring beekeeper ordered a queen and then, a few weeks later, called wanting to know why he did not have a hive of bees. He thought that a queen possessed some "magic" power that would pull bees from "out of the air."
Another man called, requesting a pregnant bee, and another said he had a small ball of bees (about eight hundred) that he wanted to build up. Did we sell "bee eggs"? This was on par with the customer who phoned asking why he could not get a new lawn to grow from grass clippings.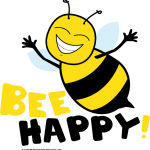 (C) Herb Senft 5/2018
Beekeepers make better lovers because they're always smoking!
That said, most male beekeepers would be humble in appreciation of a well run society of no-nonsense sisters. They are not very forgiving when it comes to slackers – esp. males.
A few Links:
Miticides and the alternatives:
Tower Hives – an interesting option.
Member of the North Olympic Beekeepers' Association.
Be sure to  visit our NOPBA wonderful archive of monthly Newsletters or visit the library that we loan out to our members
(Visited 123 times, 1 visits today)