Decades later it is often hard to remember back on gardens one has worked for, but recently another Bell Hill planting came by and mentioned that they had just purchased a place on Fox Hollow Rd. which would have been just below their place on Owls Nest Rd. Bell Hill. 
Now most of those places have incredible gardens and hers was no exception. Sadly, she moved out and I have not revisited but it was FUN working for her!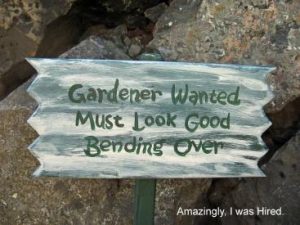 Gardening is hard work and that reality is often overlooked by the Master Gardener gawker fests they hold each year, but I made sure the visitors understood that pinching free samples was not to be tolerated.
The place had been properly landscaped by some pros but they as usual made mistakes. The most serious flaw was planting columnar Atlantic Cedar two feet from the house. That said the blue foliage was a nice contrast to the reds of the maples that were also featured there.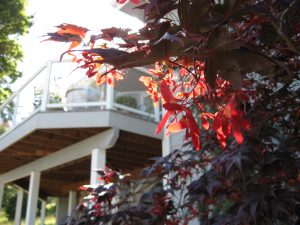 Pruning was ever a major job and keeping the fungal issues of anthracnose control on the smaller Coral Bark Maples was a pain. As you can see I love to see light filter through the foliage of trees – especially for choices like Acer griseum or other such radiant creatures. We also had a huge, huge madrona tree that seemed intent on keeping me occupied simply raking leaves. I always felt that it was watching with a wicked grin.
| | |
| --- | --- |
| | That may have been the case but as I reminded him he had many more branches yet to be harvested for firewood. And that next time I might just use that black gooey pitch. |
Towards the back one got the sense of rockwork and the beauty that rocks can add to a landscape. Less so with a massive walkway/retaining wall installed as a barrier in very claylike soil.
| | |
| --- | --- |
| | These Brobdingnagian stones provided tons  of pockets and planting ledges for tiny things like creeping dwarf chocolate ajuga and of course my own sneak insertions of fritillaria, wild columbine and shooting stars which I still grow. |
| | |
| --- | --- |
| | More immediately attractive to visitors was the pond and the lovely use of colors and textures found lurking around that water. Be it heathers or other foliage fireworks there always was something of interest. Best of all there was the never ending job of deadheading and pinching back. |
| | |
| --- | --- |
| Marilyn and I often quibbled and had fun, even about the correct pronunciation of plants. (She even dared suggest I had an improper accent!)  As a result we tried to have signs labeling the plants. A few got lost over the years and sometimes the signs simply were in the plant or in the fun of it. All in all, I was grateful that she was such a forgiving soul. | |
I loved the punctuation use of flax and other ornamental grasses as well. Libertia pereginans might have been an alternative to this dwarf brown flax.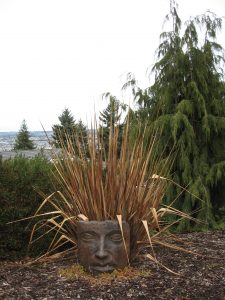 And with those fun recollections I leave you to reflect what you can do to make your garden FUN!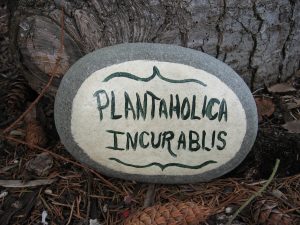 and so it flows.
(Visited 38 times, 1 visits today)