I would love to hear from you. Call or contact me at bonsaiherb@gmail.com. or follow me if you have a Google account on my blog. Or  leave me a "private message" in the contact form at the bottom of the page.
Plants will vary in price and container size Some will only be available during dormancy – late Fall or early Spring — and will be updated this winter. Seed or plant exchanges are always welcome!
No mail- order

Go directly to Plants: A  B  C  D  E  F  G  H  I  J  K  L  M  N  O  P  Q  R  S  T  U  V W Y  Z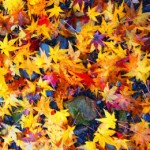 Acer circinatum " (Native Vine Maple) Spreading  multi-trunked smaller maple species great for landscapes and possibly short lived bonsai. A Northwest native it is appreciated for its fiery early autumn color. $10.00 for one gallon plants  Zn 6-7
Acer buergeranum  (Trident Maple) A smaller maple species (some are multi-trunked) with attractive scaly bark. Colorul autumn leaves Excellent patio specimen or bonsai subject.    Zn 5-8 price=OUT of Stock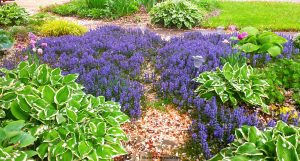 Ajuga Chocolate Crisp "
Ajuga Chocolate Chip has a very compact, dwarf growth habit.
The chocolate-colored leaves of these plants' foliage are a deep shade of brown with burgundy highlights. Plants form a dense mat of small, shiny leaves acting as an effective groundcover or look lovely spilling over the sides of containers. Flowering & Fragrance. This ajuga produces very small, fragrant violet-blue flowers that are very attractive to bees.
$5.00 for 3″ pots.  Zn 6-7
Allium senescens var. 'Glaucum',
known as curly allium, has very attractive foliage made up of fine blue-gray blades that form a swirling pattern. Pink flowers in the summer. Sun and drought tolerant.3.5 inch pots for
$5.95
OUT OF STOCK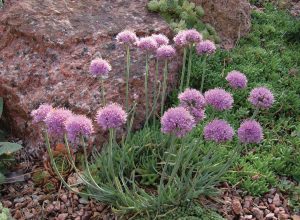 Allium senescens August Confection', A curly allium hybrid by Mark McDonaugh that puts on a serious flower show in the summer. Clump forming and not invasive. Bees and pollinators love this plant. Sun and drought tolerant. Picture is of the more common senescens. larger pots for $12.00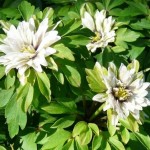 Anemone nemerosa 'Bracteata Pleniflora
' is a curiously beautiful variety of the creeping woodland perennial. The flowers are semi-double with a fringy ruff of sepals behind them. Many of the sepals have white variegation.3.5 inch pots for
$12.00
OUT OF STOCK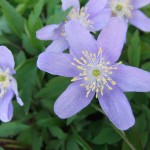 Anemone nemerosa
(blue) is a delightful spring groundcover ethat gives cheer to the shady garden. They increase by rhizomes and are dormant during much of the year. The well-divided foliage has a soft airy and is topped by inch-wide soft blue flowers.3.5 inch pots for
$5.95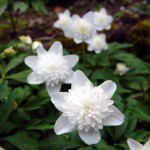 Anemone nemerosa 'Flore Pleno' is a groundcover work horse that blooms freely every spring and gives light to a shade or pt. shade garden. It increases by rhizomes and goes dormant during the summer. The well-divided foliage is attractive and the flowers are double white. 3.5 inch pots  for $6.00 . OUT OF STOCK
I would also trade for: Anemone ranunculoies (yellow) or Anemone nemerosa Vestal'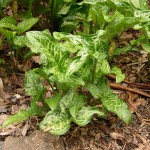 Arum italicum (Italian Arum)  Pt.Sh.  Glossy green leaves marbled with silver appear in late winter. Flowers are interesting and are followed by upright stalks of bright orange-red berries in summer. (Caution; berries are toxic) Forms spreading clumps and is interesting planted with Hellebores. May go summer dormant. Hardiness Zone 6  4 " pots $12.00   Best grown in medium moisture, consistently moist, humusy, organically rich soils in part shade to full shade.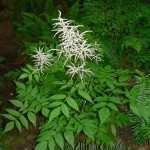 Aruncus dioicia 'dwarf form' (Goat's Beard)  Pt.Sh.  A fantastic native with large, fine-textured feathery blooms in late Spring. Though closely related to Spiraea, goat's beard more closely resembles a giant Astilbe. When happy, Aruncus can be a formidable garden plant, reaching a spread of 6 feet or more. It is lovely when used at woods edge and it can provide a dense screen beneath a high canopy. This selection is half that height. Hardiness Zone 5-9  4 " pots $10.00  OUT OF STOCK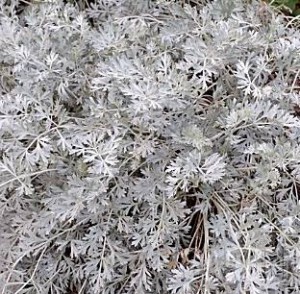 Artemisia absinthium 'Lambrook Silver' Wormwood is a wonderful addition to any garden. Silver gray aromatic foliage is slightly hairy. 'Lambrook Silver' Wormwood is drought tolerant and deer resistant. Cultivated for it's deeply divided lovely foliage this Artemisia does not run, but forms a woody stem from which cascade boldly cut silver leaves, followed by long sprays of yellow mimosa-like flowers. Hardiness Zn 2-9. Grown in 4″ pots,  $4.95 ea. OUT OF STOCK
Artemisia dracunculus 'Sativus' (French Tarragon)
Choice culinary herb boasts slender, dark-green, anise-scented leaves. Marvelous used fresh or dried. Pass the Béarnaise sauce! Tarragon and most herbs needs full sun for best flavor, and excellent drainage to thrive.. Hardiness Zn 4,5,6,7,8,9.  Deer resistant. Grown in 6″ pots. $8.00 ea.  
Mail-order discontinued.
All plants can be picked up at my place given notice. Hope to see you soon. The Google Map..
(Visited 424 times, 1 visits today)