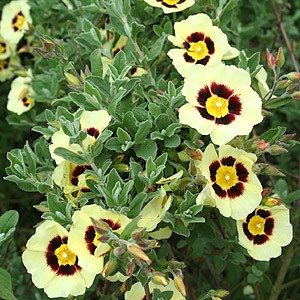 Plants will vary in price and container size Some will only be available during dormancy – late Fall or early Spring — and will be updated this winter. Seed or plant exchanges are always welcome!
Go directly to Plants: A  B  C  D  E  F  G  H  I  J  K  L  M  N  O  P  Q  R  S  T  U  V W Y  Z

| | |
| --- | --- |
| | Haemanthus albiflos –South African native with wonderful strap leaves with great, bottle brush type flowers. A great, easy to grow, houseplant. Fall to winter blooming houseplant. With time the leaves can get huge. Looks great in a shallow round container. 3 " blooming pots $20.00  Houseplant or outdoors in mild temperature zones |
| | |
| --- | --- |
| | Hakonechloa m. dwarf form — Like the regular variegated Jaanese Forest Grass this variegated green and white leafed grass only grows some 8 inches high. Wonderful addition to your garden with ferns, black mondo graass, hosta or blue Corydalis.  Zn 5 or -20 F . 3 " pots $12.00 |
Helleborus hybrids anemone and Ashwood hybrids.

These are some lovely hellebore hybrids, grown from seed. So the colors will vary. Nice blooming one gallon cans. 

17.00 ea.
(Visited 293 times, 1 visits today)