Plants will vary in price and container size Some will only be available during dormancy – late Fall or early Spring — and will be updated this winter. Seed or plant exchanges are always welcome!
Go directly to Plants: A  B  C  D  E  F  G  H  I  J  K  L  M  N  O  P  Q  R  S  T  U  V W Y  Z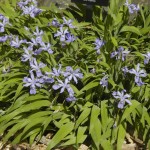 Iris cristata:  Flowers are a light blue;  This low growing specie Iris with different colors. This form is light blue and this plant as the one above work well in bonsai. These plants are  $5.00 ea.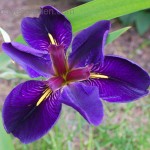 Iris lousiana 'Black Gamecock'  Stunning purple-black color and incredible vigor define this upright grower. It flourishes in damp soils and can be a great bog plant as it can have its feet in standing water. Giant near-black blooms begin in early summer. This vigorous plant can grow some three feet high and wide and is virtually maintenance free. Although it can grow in full sun it can do well in part shade. Zn 4.9 These plants are  $9.00 ea. in one gallon cans.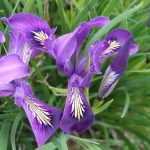 Iris tenax. 
The leaves are tough, dark, grass-like, and nearly evergreen on
this showy iris. It blooms in a spectacular color range from almost white to purple and all hues of blue in between. It is clump forming, blooming April‑May, it is only 14 in. tall. This is an excellent, easy, very drought tolerant garden plant that is used far too infrequently. Nectar species for Dusky Wing and, occasionally, Fenders Blue Butterfly.  One of the prettiest native Iris. When established Iris tenax produces abundant flowers that open consecutively for weeks.
These plants are  $5.00 ea.
Do visit the next link for more bog plants.

Iris suaveolens v. rubromarginata
Flowers are brown with a violet beard; 10cm. Recurved leaves with red margin; Balkans. Low growing specie Iris with different colors. This form is in the violet rage. Available in 2016. These rare plants are going to be $9.95 ea. OUT OF STOCK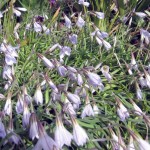 Ipheom uniflorum: 
Ipheon are great for planting in a rock garden, for pots, borders or for under planting with Peonies or Hostas.  They naturalize very well, and, once established, produce masses of quarter size flowers lasting up to four weeks in the garden.
.
Can take full sun and are deer resistant. (Onion smell!) $5.00 3.5 inch pots bare rooted in fall.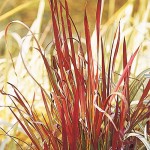 Imperata cylindrica(Japanese Blood Grass) A stand of Japanese bloodgrass backlit by the evening sun is a sight to behold. Its beautiful mid-green leaf blades appear dipped in crimson paint and remain colorful through summer and fall. While grasses typically are drought-tolerant, Japanese blood grass must have sufficient water to thrive. In fact, dry conditions are usually the culprit when this plant struggles. $5.00 for a 3.5 inch pot.. OUT OF STOCK
Iris ?? unknown: 
Flowers are a dark purple;  until it blooms it will have to wait for a proper ID.  This low growing specie and this plant as the ones above work well in bonsai. These plants are 
$5.95 ea
.
One of these must be chosen before I can ship.
All plants can be picked up at my place given notice. Hope to see you soon. The Google Map..
(Visited 345 times, 1 visits today)