A beginning of Garden plants for sale  in 2021
Plants will vary in price and container size Some will only be available during dormancy – late Fall or early Spring — and will be updated this winter. Seed or plant exchanges are always welcome!
Go directly to Plants: A  B  C  D  E  F  G  H  I  J  K  L  M  N  O  P  Q  R  S  T  U  V W Y  Z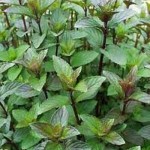 Mentha piperata  'Chocolate Mint'
.
One of my two favorite mints.

 Bronzy leaves and

  low growing,
Chocolate mint is a great peppermint with distinct chocolate overtones. This useful mint plant will add an extra sensory delight when infused into coffee or hot chocolate.

Some states may have import restrictions on mints!

 
$4.00
in 3.5″  Zn 3
Mentha
Mentha aquatica, Water Mint
; syn. Mentha hirsuta is a perennial that grows in damp places and is native to much of Europe, northwest Africa and southwest Asia. The growing height is about 6″ above the water and the top of the plant should be just below the water surface. Full sun to shade. Lavender flowers and a strong minty fragrance. 
$4.00
in 3.5 " pots
I have at least 8 other MINT varieties. Needing to re-identify.   If you have any named ones, please bring a sprig with an ID label to trade for something at the nursery.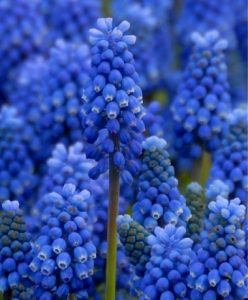 Muscari aucheri types. Dark Blue as well as Valerie Finnis.
$5.00
in 3.5 " pots. M. aucheri Dark Eyes yields  densely packed, perfectly formed, intensely sapphire-blue florets decorated with bright white rims above ample foliage clumps. It has a pale sweet fragrance.
Commonly referred to as Grape Hyacinths, deer- and rodent-resistant Muscari naturalize readily in well-draining soil and in full to partial sunlight. Plant with Daffodils.  They make good cut flowers too. The March April bloom Is just perfect under apple trees.  Plant 5″ deep and 3″ to 4″ apart. HZ: 4-8. Height: 6″ to 8″.
Muscari are The Art & Soul of Spring.
More common forms would be 3.00 ea. 
All plants can be picked up at my place given notice. Hope to see you soon. The Google Map..
(Visited 215 times, 1 visits today)