Plants will vary in price and container size Some will only be available during dormancy – late Fall or early Spring — and will be updated this winter. Seed or plant exchanges are always welcome!
Go directly to Plants: A  B  C  D  E  F  G  H  I  J  K  L  M  N  O  P  Q  R  S  T  U  V W Y  Z

Galanthus nivalis and hybrids
The drooping white flowers of G. nivalis, the common snowdrop are familiar to most. Less well known are the dozens or more varieties that include doubles or larger flowered forms. The second picture is is of the cultivar 'Mighty Atom' snowdrops. These plants are in 3.5 inch pots  Price is $5.00 

Some background and history. John Gray was a well-known British snowdrop enthusiast and who's garden contained some extremely fine and unnamed snowdrops. When he died in 1952, some of the finest plants passed to E.B. Anderson (another great hybridizer), who made a special attempt to collect them. Thanks to his efforts one clump was to be named John Gray and remains distinct to this day. T Plant with early blooming primroses, Cyclamen couem or Iris reticulata — purples esp. Hardiness z 5  Bloom: Feb. March Light: Excellent for sun or in part shade which gives me a segue to cyclamen.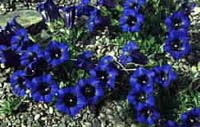 Gentiana acaulis 'Holzmann' Awesome large dark blue upward facing trumpets! In bloom now and in one gallon cans. $16.95.   (This is a picture of one of my own G. aucalus clumps. Holzmann has larger flowers.

Zn3
SOLD OUT
Gentiana acaulis 'Undulatifolia' is much the same but of a lighter color and is $15.95.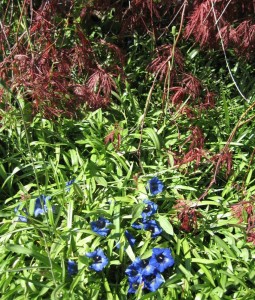 Gentiana acaulis  These are well established 3.5 inch pots and might bloom this fall. Dark blue upward facing trumpets! 15.00   (One picture of one of my own G. aucalus clumps used as a ground cover under a red Japanese maple. G. 'Holzmann' has larger flowers.  

Zn3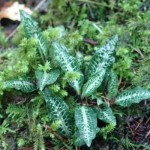 Goodyera oblongifolia  (Rattlesnake Plantain) Interesting native widespread in our forest lands.

Deep leaf litter and shade of moist or dry coniferous or mixed woods. Blooming now (insignificant) these are in 3.5 inch pots and are

$5.00.  (This is a picture of it growing under Douglas Fir, well surrounded by moss.

Zn 6-9
SOLD OUT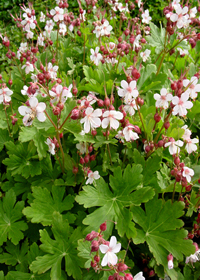 Geranium macrorrhizum
'Album' (Bigroot Geranium)
Pink white flowers from spring to summer, rise above spreading, deer resistant, highly aromatic evergreen foliage that grows to form a solid groundcover. The foliage turns a russet red in fall! This is a workhorse of a plant that works in a lot of different applications, including dry slopes. 1 gallon cans. $6.00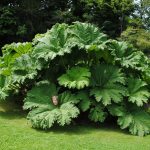 Gunnera tinctoria Chilean Rhubarb
Gunnera is one of South America's best contributions to our gardens, ith leaves easily reaching 5 ft. across and 7 ft. high, sometimes more! It is easy and rapid-growing in moist soil, blossoming annually with tiny flowers on large 2 ft. club‑like structures. The plant likes a boggy area best, but can be grown in average conditions if watered weekly. One gallon plants. 15.00
All plants can be picked up at my place given notice. Hope to see you soon. The Google Map..
All plants can be picked up at my place given notice.
(Visited 474 times, 1 visits today)