Plants beginning with (C)
Plants will vary in price and container size Some will only be available during dormancy – late Fall or early Spring — and will be updated this winter. Seed and plant exchanges are always welcome!
Go directly to Plants: A  B  C  D  E  F  G  H  I  J  K  L  M  N  O  P  Q  R  S  T  U  V W Y  Z

Go to Cactus and my article Hardy and window sill cactus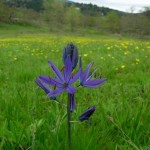 Camassia leichtlinii ssp. leichtlinii (Quamish, Indian Hyacinth) native to  western Canada and the west coast, from southern B.C. to northern CA., and east to Utah, Wyoming and Montana. Common names include camas, quamash, Indian hyacinth, camash, and wild hyacinth. Grown in 2 inch pots the price is $5.00 . Some of these plants are cream colored, not blue.   price=3.95″]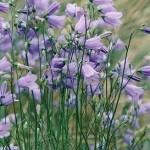 Campanula rotundifolia (Olympic Bellflower) This surprisingly drought tolerant ground cover is covered with thimble-shaped flowers on wiry stems; nice in bouquets. Blooms  June -August and is hardy to Zn 3. Grown in 3.5 inch pots the price is $4.00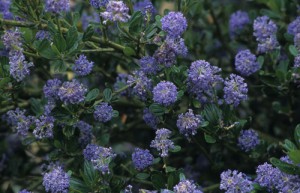 Ceanothus 'Victoria'
in 3.5 inch pots. Masses of v
ivid  dark  blue flowers in spring, glossy green leaves. Needs well drained soils, otherwise it is tough and trouble free. Zn 7   SOLD OUT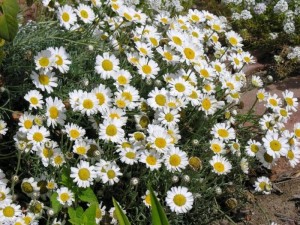 Chrsyanthemum (Chrysanthemopsis)  hosmariense (Mt. Atlas Daisy)
Nice one gallon plants will provide you with masses of blooms from spring to fall.  Large yellow-eyed daises dance atop silver-grey foliage. This is one of my ten top rockery plants.
  Zn 8  $15.00 ea. and shipping in a large flat rate box. 
SOLD OUT
Cistus Mickie
(Rockrose) This stable variegated form of Cistus hybridus is a low, mounding habit that hugs the ground and creates a super colorful, evergreen color spot. 'Mickie' hails from northern Washington State and has survived some brutal winters. Charming white flowers punctuate the flashy  bright yellow-gold leaves that have irregular sage green centers. The flowers are held aloft on cherry red stems  May through June. Use in fall mixed containers and watch it attract butterflies! 
In the landscape you might consider it as the foreground plant or understory for Purple Smoke trees or Black Lace Elderberry. 
Zn 8 
Available in June

. $SOLD OUT
Note: The claimed hardiness is Zones 7-10 and cold hardy to 0 to 10F. So written – I question that. Zn 7 is questionable in my mind and anything below 17F will cause damage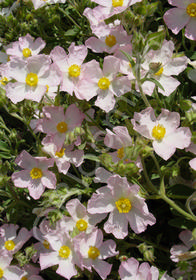 Cistus 'Silver Pink' Lovely pale pink crinkled flowers with golden stamens are borne on this low, open shrub in late spring and early summer. The evergreen leaves sport grayish undersides. Tolerates rocky soil, dry slopes and maritime conditions.  Zn 8  $5.00 ea. 3″ pots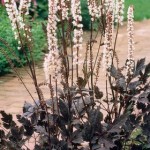 Cimicifuga ramosa 'Atropurpurea' (Bugbane) Deep purple, lacy foliage is topped by fragrant, creamy-white flower racemes (12-18″ long resembling white bottlebrushes on a black stem. Late summer blooming this is a beautiful and long blooming perennial that is ideal for moist woodland sites. I found it interesting that local black and white wasps visited the similarly colored flowers. Butterflies go after it as well and it is an interesting cut flower.  Zn 8  $1 gal.   $16.00 ea. SOLD OUT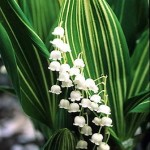 Convallaria majalis Variegata (Variegated Lily of the Valley)
Nice 3.5″  plants will provide you witha very unusual ground cover. Not only does this rare and delightful perennial offer fragrant white fairy-bell flowers in spring but wide variegated foliage to be enjoyed with Hosta or Heuchara. PSh-Sh. 
Zn 4  $12.95 ea. and shipping in a large flat rate box.  SOLD OUT
Regular Lilly of the Valley. 3″ pot. $3.00.

Corydalis flexuosa 'Pere David'
  Masses of pure 
blue flowers over dicentra-like foliage,  making a vigorous clump in a cool humus position. In pots they are about 3″ tall but can depending on plant siting be 6 to 12 " tall. Zn 7  $6.95 ea.

Corydalis is a wonderful spring and summer shade plant. Combine it with spring bulbs and perennials such as Tiarella, Dicentra, and Mertensia, or with hostas and ferns. Shooting Star also works well with this plant.SOLD OUT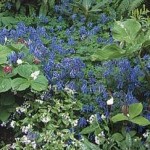 Corydalis flexuosa 'Purple Leaf' Blue Corydalis   $9.95 in 3.5″ Pots. Good and vigorous culivar of Corydalis flexuosa.  This will put on a show in spring into June with lots of vibrant blue flowers above a compact purplish tinged foliage which looks somewhat like a combination a dwarf dicentra and a meadow rue. Perfect in the shade garden where it needs moisture. This will go fairly dormant in the dog days of summer but will start up again in early fall. Zn. 5-9
SOLD OUT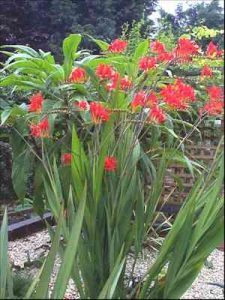 Crocosmia 'Lucifer' 'Dramatic, deep red tubular flowers arch up tall stately stems, drawing hummingbirds from far and wide. Blooms mid to late summer. Grows best in rich, moist soil..  Zn5,6,7,8,9 $1 gal.   $8.00 ea.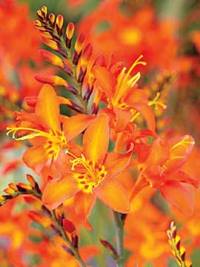 Crocosmia 'Emily Mckenzie' (or like) Emily Mckenzie is a versatile, showy plant that boats unique, bi-color blooms in shades of red and orange. Some yellow there as well. Low fuss blooming plant once established. This plant can grow in partial shade and is deer resistant. Zone5,6,7,8,9 $3″ pot.   5.00 ea.  
CYCLAMEN COUM
This cyclamen is a smaller leafed winter blooming cyclamen. The great foliage carries aloft mostly pink flowers and can make a pink oasis under trees and lends great charm to the spring garden.. The plant self sows easily. They bloom in Feb March and even into April and have beautifully round dark green leaves. 3 inch pots $6.00
Best in Zone 5-9 Height about 2" Excellent in Pt. Shade. Well drained soil is important!  Naturalizes (!!! Even into grass) Ants carry the seeds and plant them willy nilly. Works well in rock gardens as well. These are already blooming their hearts off!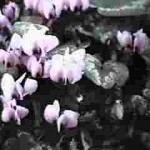 Fall Blooming Cyclamen hederifolium
Fragrant pale pink flowers with a red center, blooming in September and October. Beautifully heart shaped and sometimes marbled leaves. 4″ pots $
5.00 
Hardy relative of the ever-popular florist's cyclamen. These will grow and bloom in the shade. Once planted they can, if happy self-sow with abandon. Quite happy in shade or in the sun. These are every bit as charming as the florist variety and can be used as specimens in the rock garden, or as a great ground-covers under deciduous trees and shrubs. The leaves may vary, some are rounded and some are triangular, nearly all are marbled with white or cream. The flowers range from snow-white to pink. This is a must have for the fall garden! These are well established 3 1/2 pots and are guaranteed to bloom. Zones 4-5 and higher.
(Visited 234 times, 1 visits today)