Plants will vary in price and container size Some will only be available during dormancy – late Fall or early Spring — and will be updated this winter. Seed or plant exchanges are always welcome!
Go directly to Plants: A  B  C  D  E  F  G  H  I  J  K  L  M  N  O  P  Q  R  S  T  U  V W Y  Z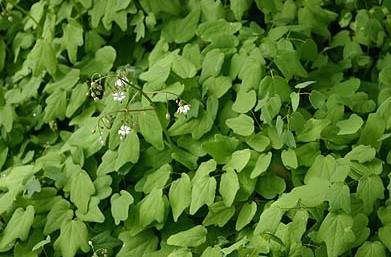 Vancouveria hexandra (White inside -out flower.)
Oddly scarce in cultivation or in use, this woodland ground cover plant grows to 12 inches with compound leaves in triplets and is usually found in dense patches. It gets its name from the small delicate white flowers. Amazingly it can compete even with Cedar trees and even seems to suppress other weeds. The genus honors George Vancouver, the 18th-century explorer of the Pacific Northwest. These are in 3.5 inch pots and are available this fall. $6.00  
The Yurok tribe from Northwestern California chewed the leaves* of V. hexandra for a cough medicine. Modern medicinal uses* are for sinus congestion, chronic rhinitis and hay fever.
.
Viola Irish Molly

.
  While I'm in a black mood I added this. Viola 'Molly Sanderson' is one of the few plants to have black flowers, making it perfect for eye-catching color schemes. Not available this year.
All plants can be picked up at my place given notice. Hope to see you soon. The Google Map..
(Visited 243 times, 1 visits today)