Plants will vary in price and container size Some will only be available during dormancy – late Fall or early Spring — and will be updated this winter. Seed or plant exchanges are always welcome!
Due to PayPal's inability to handle and charge appropriate fees for multiple combinations I decided to re-edit all my listings to a 'plant cost only.'  At the bottom of each listing page will be three shipping alternatives.
Go directly to Plants: A  B  C  D  E  F  G  H  I  J  K  L  M  N  O  P  Q  R  S  T  U  V W Y  Z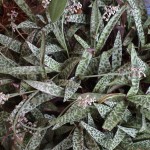 Silver Squill — Ledebouria socialis syn. (Scilla violacea)
I have TWO different selections The names of these plants are ever changing. The difference between the former "Scilla violacea" and "Scilla socialis". The old "Scilla violacea" is now correctly Ledebouria socialis 'Violacea' and always has the purple coloration on the underside of the leaves (although this can be fainter on plants in bad light). This is by far the commonest type seen in cultivation. The "original" green form now known as Ledebouria socialis has all green coloration on the undersides of the leaves.
The picture is of an adult houseplant. What I am selling are two small plants (one of each kind) that can be shipped in a small flat rate box. Price: $7.95 for the two plants and $5.95 for the shipping. These will be two separate carts as the PLANTS could be added to most other larger purchases. Bulbs at the base of the plant must be above the soil. Multiplies rapidly. Sun Exposure: Light shade to morning sun. Zn 10a. Origin: South Africa. TwoScilla[wpepsc name="Two scilla plants" price="7.95″] Shipping charge[wpepsc name="small flat rate box" price="5.95″]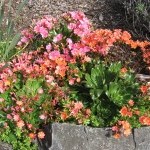 Lewisia cotyledon makes an ideal rockery plant, or a wonderful specimen in a clay pot, tuffa planter. Well sited, single plants will life for 10 years or longer in ideal conditions and will reseed easily. Seedlings with good care can reach flowering potential in less than 3 years. 3.5 inch pots $4.95 ea..[wpepsc name="Lewisia cotyledon" price="4.95″]
Lewisia c. Regenbogen
Mixture of rainbow -based flower colors on a compact succulent – leaved alpine preferring semi-shade and fast drainage. Blooms May to August. In larger pots $7.95 and med. flat rate shipping. (NOTE- Only two can be safely shipped with two 3.5″ plants added.)Zn 4.
[wpepsc name="Lewisia c. Regenbogen" price="7.95″]
New crop of 3.5 inch pots of Rainbow mix $3.95 ea

.
.[wpepsc name="Lewisia cotyledon Rainbow mix" price="4.95″]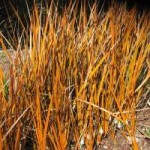 Libertia peregrinans
(Copper/Orange Libertia) – is an interesting and colorful rhizomatous perennial related to Iris with stiffly upright foliage to just under 2 feet tall.The narrow, strikingly colored leaves would be a perfect foil for taller
Agapanthus
(2016) in the background. Native to N.Z. it does well in coastal Washington to CA and is hardy to the the 17 F. range. With snow cover it would come back from colder temperatures. 
$5.95
for a 3.5 inch pot. .[wpepsc name="Libertia peregrinans" price="5.95″]
One of these must be chosen before I can ship.
[wpepsc name="Single purchase" price="7.95″]1 plant (Single purchase) $7.95
Up to 4 plants in a Medium Flat rate box $12.95 [wpepsc name="Medium flat rate box" price="12.95″]
Up to 6 plants in a large flat rate box $16.95 [wpepsc name="Large flat rate box" price="16.95″]
All plants can be picked up at my place given notice. Hope to see you soon. The Google Map..
(Visited 210 times, 1 visits today)