Plants beginning with (F)
Plants will vary in price and container size Some will only be available during dormancy – late Fall or early Spring — and will be updated this winter. Seed or plant exchanges are always welcome!
Due to PayPal's inability to handle and charge appropriate fees for multiple combinations I decided to re-edit all my listings to a 'plant cost only.'  At the bottom of each listing page will be three shipping alternatives.
Go directly to Plants: A  B  C  D  E  F  G  H  I  J  K  L  M  N  O  P  Q  R  S  T  U  V W Y  Z

Frageria chiloense 'Green Pastures'
is a dwarf Beach strawberry  native to Pacific coast beaches and bluffs of North and South America. This select cultivar is an adaptable ground cover growing well in a wide range of climates and conditions. Forms lush carpets of shiny dark green foliage. The white flowers are made up of five petals and are very large, showy and profuse in the spring. A great colonizer and stabilizer, this vigorous perennial spreads by runners to form dense carpets. Plant in sun to light shade with moderate summer water. Drought tolerant along the coast. Said to be deer resistant. Densely packed 3.5 inch pots.
$2.95
  Larger flat rate boxes would be the way to go.
[wpepsc name="Frageria chiloense 'Green Pastures'" price="2.95″]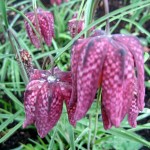 Fritillaria meleagris:  F. meleagris: Syn: Guinea Hen Flowers, Snakes Head Fritillary, the Checkered Lily. Circa 1575, this prized naturalizer has small, bell-shaped, checkered flowers in maroon-purple and white. It prefers a sheltered spot in the garden with light shade and somewhat cool, moist soil. Also good for forcing 3.5 inch pots. Zn 3-8 [wp_cart_button name="Fritillaria meleagris " price="8.90″]
One of these must be chosen before I can ship.
[wpepsc name="Single purchase" price="7.95″]1 plant (Single purchase) $7.95
Up to 4 plants in a Medium Flat rate box $12.95 [wpepsc name="Medium flat rate box" price="12.95″]
Up to 6 plants in a large flat rate box $16.95 [wpepsc name="Large flat rate box" price="16.95″]
All plants can be picked up at my place given notice. Hope to see you soon. The Google Map..
.
(Visited 136 times, 1 visits today)