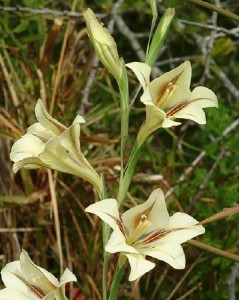 Link to the latest Plants available:
I would love to hear from you. Call or contact me at bonsaiherb@gmail.com. or follow me if you have a Google account on my blog. Or leave me a "private message" in the contact form at the bottom of the page.
Go directly to Plants: A  B  C  D  E  F  G  H  I  J  K  L  M  N  O  P  Q  R  S  T  U  V W Y  Z
Somehow I knew I had forgotten a letter and a few plants I would dearly love to obtain. Sequim Plants – where going Native feels good ...
I introduced Zauschneria and Penstemon pinifolius to this area back in the 80's. Starting the Nursery over again I no longer have these plants and former customers have long past on, or have sold their properties. Should you have any of these plants I would be more than excited to trade for them!. There are many named cultivars both stemming from CA and AZ. material. Both of these lovely plants are Xeriscape material and with our ensuing droughts something to consider promoting. Gladiolus tristus shown as the featured image. Young plants being grown.
Zauschneria garrettii 'Orange Carpet' (

Hummingbird Trumpet Flower) Brilliant scarlet-orange tubular flowers late summer over green-gray leaves. Drought and deer resistant, but hummingbirds and butterflies love it! An excellent choice for a rock garden

3 inch pots 8.00
Zauschneria c Sidewinder Intense scarlet flowers that bloom summer through fall against silvery gray-green small leaves. A low spreading variety that reaches 1-2 feet tall and 2 to three feet wide. Xeric,Shearing after bloom is advisable Looks great with Artemisia.

3 inch pots 8.00

 Zauschneria garettii 'Orange Carpet'  The flowers are Brilliant scarlet-orange and begin to bloom in late summer. The green-gray leaves are drought and deer resistant, but hummingbirds and butterflies love it! An excellent choice for a Xeric garden. Plant with purple Agastache.

3″ pots 8.00

Zauschneria s. Select Mattole Often referred to as White Leaf Fuchsia this selection has frosted silvery leaves that make a stunning contrast with the bright, orange tubular flowers that make the hummingbirds swoon in delight. 

3″ pots 8.00
The Zauschneria I used to grow were 'Calistoga', 'Rogers U.C. hybrid', Z. cal. 'Glasnevin', Z. cal. latifolia, Z. californica and the following Z. sept. 'Select Matthole'
Penstemon pinifolius 'Mersea Yellow' is not exactly what I wanted but it looks interesting. The regular P. pinifolius compacta  is a lovely red. Depending upon the cultivar Small, bright yellow or RED, tubular flowers bloom from this hardy native cultivar from summer through fall. Excellent in rock gardens and gravelly soil. (Sold out)
Penstemon-pinifolius

Working to build up stock.
Non Xeriscape plants I also grow would include rockery plants, alpines such as Primula species … P. auricula, Gentian etc. Other Perennials such as Alstroemaria, specie Iris or Pacific Coast Iris are items I would always TRADE FOR!
All plants can be picked up at my place given notice. Hope to see you soon. The Google Map..
(Visited 1,352 times, 1 visits today)