Plants will vary in price and container size Some will only be available during dormancy – late Fall or early Spring — and will be updated this winter. Seed or plant exchanges are always welcome!
Directly to Plants: A  B  C  D  E  F  G  H  I  J  K  L  M  N  O  P  Q  R  S  T  U  V W Y  Z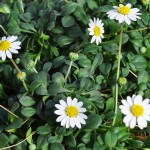 Bellium Minutum – Minature Mat Daisy This is a medium fast growing, spreading groundcover for the sun or part shade. Excellent for Rock gardens as well. The height will be 2-4 inches and the spread is about 12-16 inches. It does need cool, moist soils and the white flowers appear in summer and last into fall. 3 " pots $4.95  Z5 – Cold Hardy to -10 to -20 OUT OF STOCK
This is one of my top 10 plants for the miniature garden and is excellent for growing in alpine containers or troughs. Needs evenly moist soil. Not a good choice for regions with hot and humid summers.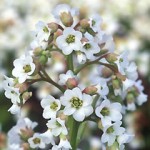 Bergenia cord."Bressingham White" This clump-forming, incredibly hardy and reliably evergreen perennial has oval, glossy, deep green leaves that look good all year. Between mid – and late spring it produces funnel-shaped, pure white flowers that contrast with the shiny foliage. The flowers of 'Bressingham White' will brighten shady areas of the garden, especially when planted at a border's edge. Hardiness Zone 2-9 strong divisions for  Fall ship. $10.00 

The winter leaves are a valuable addition to cut flower bouquets. Tolerates a wide range of soil conditions, in both sun or part shade. Easily divided in spring or early fall.

Other BERGINIA to be added. Come visit.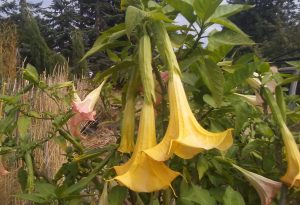 Brugmansia candida ANGEL'S TRUMPET tender subtropical shrub to 12' with huge, felty leaves and enormous, pendant, trumpet shaped flowers. These must be kept dry and in storage in cold weater areas like Sequim. Bring out in April and plant. Most varieties are characterized by a sweet, musky fragrance which is produced just before dusk and into the evening as long as the summer warmth is there.
Not sure if this is B. insignis or some hybrid for the single white flowers do evolve into strong yellow and apricot shades. Very fragrant at night but B. candida has the stronger fragrance which this one certainly has. Come dusk the musky fragrance (if warm) will overpower the yard. Fun to watch the bees and bumblebees try to get their fill. 12.00 for a gallon can.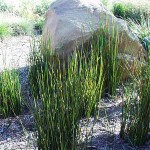 Baumea rubiginosa 'Variegata':  This attractive variegated striped rush has stiff green sword-like foliage with vertical bright yellow stripes. This sedge-like plant from New Zealand has very narrow needle-like leavers that are dark green and striped along one edge with yellow. Semi-evergreen in mild regions. This plant will grow in moist soils but will also grow in water if the crown is out of the water and in these conditions will grow to up to 3 feet tall. Hardy to 10 F or a bit lower..  . $10.00.OUT OF STOCK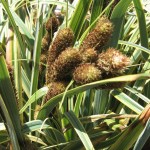 Carex trifida  Variegated Tataki Grass A large New Zealand clump-forming evergreen sedge that grows upright to 3 feet tall by 2 feet wide with strong relatively broad mid-green leaves with gold margins that are bluish on underside and weep over gracefully toward the leaf tip.Plant in full sun (coastal) to light shade in rich well-drained soils and irrigate regularly. Hardy to 0°F (Zone 7) and resistant to deer predation One gallon cans. $10.00.  Out of stock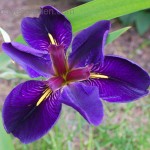 Iris lousiana 'Black Gamecock'  Stunning purple-black color and incredible vigor define this upright grower. It flourishes in damp soils and can be a great bog plant as it can have its feet in standing water. Giant near-black blooms begin in early summer. This vigorous plant can grow some three feet high and wide and is virtually maintenance free. Although it can grow in full sun it can do well in part shade. Zn 4.9 These plants are  $10.00 ea.
Scirpus zebrinus: One gallon plants of this Variegated Zebra Rush. This solidly hardy bog lover is a standout and its horizontally striped leaves can grow 3 – 4 ft. tall.. Loves a rich wet soil and will grow in shallow water.Water Depth: Moist to 6″ (Maximum water depth is for mature bog plants) it will spread, so best plant it in a restricting container. Hardiness Zone: 5 – 11. $10.00 OUT OF STOCK
Sarracenia: Not yet, but soon. What this unfinished listing is a gray-blue reed that I have not yet identified.. It appears to be an invasive type, so care should be made to put it into pots. Grass-like plants are typically marketed as ornamental grasses. In bogs these include the "Sedges have edges,  rushes are round, grasses have knees that bend to the ground." That rhyme does not always hold true but it is a beginning. These have been divided into deep 2.5 inch pots.for  $12.00  OUT OF STOCK
BULBS:
.
CYCLAMEN COUM
This cyclamen is a smaller leafed winter blooming cyclamen. The great foliage carries aloft mostly pink flowers and can make a pink oasis under trees and lends great charm to the spring garden.. The plant self sows easily. They bloom in Feb March and even into April and have beautifully round dark green leaves. 3 inch pots $8.00 
Best in Zone 5-9 Height about 2" Excellent in Pt. Shade.Well drained soil is important!  Naturalizes (!!! Even into grass) Ants carry the seeds and plant them willy nilly. Works well in rock gardens as well. These are already blooming their hearts off!
Fall Blooming Cyclamen hederifolium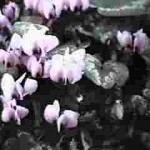 Fragrant pale pink flowers with a red center, blooming in September and October. Beautifully heart shaped and sometimes marbled leaves. 4″ pots $
5.00
Hardy relative of the ever-popular florist's cyclamen. These will grow and bloom in the shade. Once planted they can, if happy self-sow with abandon. Quite happy in shade or in the sun. These are every bit as charming as the florist variety and can be used as specimens in the rock garden, or as a great ground-covers under deciduous trees and shrubs. The leaves may vary, some are rounded and some are triangular, nearly all are marbled with white or cream. The flowers range from snow-white to pink. This is a must have for the fall garden! These are well established 3 1/2 pots and are guaranteed to bloom. Zn 4-5 and higher.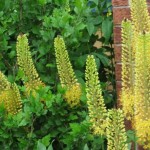 Eremurus bungei  - Foxtail Lily
Syn: E. stenophyllus. Circa 1834, bright yellow, maturing to orange. It is just fabulous planted with
Peonies
. Top size tuberous rootstock s. May/June. 3' to 6  USDA Zone: 4-8 Four inch plant size  OUT OF STOCK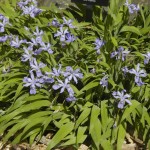 Ipheom uniflorum:  Ipheon are great for planting in a rock garden, for pots, borders or for under planting with Peonies or Hostas.  They naturalize very well, and, once established, produce masses of quarter size flowers lasting up to four weeks in the garden.. 3.5 inch pots. $5.00. Can take full sun and are deer resistant. (Onion smell!) OUT OF STOCK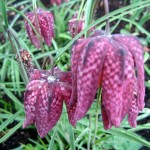 Fritillaria meleagris:  F. meleagris: Syn: Guinea Hen Flowers, Snakes Head Fritillary, the Checkered Lily. Circa 1575, this prized naturalizer has small, bell-shaped, checkered flowers in maroon-purple and white. It prefers a sheltered spot in the garden with light shade and somewhat cool, moist soil. Also good for forcing 3.5 inch pots.$4.00 Zn 3-8 OUT OF STOCK
]
All plants can be picked up at my place given notice. Hope to see you soon. The Google Map to my place.
(Visited 857 times, 1 visits today)