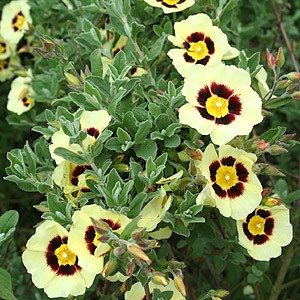 I would love to hear from you. Call or contact me at bonsaiherb@gmail.com. or follow me if you have a Google account on my blog. Or  leave me a "private message" in the contact form at the bottom of the page. New listings soon!

Plants will vary in price and container size Some will only be available during dormancy – late Fall or early Spring — and will be updated this winter. Seed or plant exchanges are always welcome!
Due to PayPal's inability to handle and charge appropriate fees for multiple combinations I decided to re-edit all my listings to a 'plant cost only.'  At the bottom of each listing page will be three shipping alternatives.
Go directly to Plants: A  B  C  D  E  F  G  H  I  J  K  L  M  N  O  P  Q  R  S  T  U  V W Y  Z

Fall Blooming Cyclamen hederifolium
Jovibarba heuffelii (yohv-ih-BAR-ba | heff-EL-ee-eye) are beautiful cold hardy and drought tolerant succulents with varying rich colors that may change by the season. They multiply from offsets which you cut with a knife to propagate. If left alone, the plants form lovely, large clumps and do not multiply on stolons as Sempervivum do. When you want to increase the numbers you cut them in pieces (on the dry side) and replant.These sempervivum relatives are cold hardy to USDA Zone 4 -20° to -30°F.
One of these must be chosen before I can ship.[wpepsc name="Single purchase" price="7.95″]1 plant (Single purchase) $7.95
4-6 plants (Med. flat rate) $12.50 [wpepsc name="Medium flat rate box" price="12.95″]
6-9 plants (Lg. flat rate) $16.95 [wpepsc name="Large flat rate box" price="16.95″]
All plants can be picked up at my place given notice.
(Visited 230 times, 1 visits today)