Plants will vary in price and container size Some will only be available during dormancy – late Fall or early Spring — and will be updated this winter. Seed or plant exchanges are always welcome!
Due to PayPal's inability to handle and charge appropriate fees for multiple combinations I decided to re-edit all my listings to a 'plant cost only.'  At the bottom of each listing page will be three shipping alternatives.
Go to Plants: A  B  C  D  E  F  G  H  I  J  K  L  M  N  O  P  Q  R  S  T  U  V  Y
MORETREES Available in 2016
Acer Japonicum – Japanese Maple.Three year plants that are perfect for planting. #1 gallon pots for 7.00. Best delivered in the Fall and pinch back lightly in the spring.1 gal. 7.00.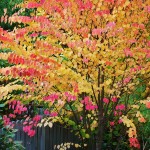 Cercidiphylum  japonicum (Katsura Tree) Hardy and distinctive. Heart shaped leaves that turn apricot-orange in autumn. Plant a threesome just to be different.
One of these must be chosen before I can ship.[wpepsc name="Single purchase" price="7.95″]1 plant (Single purchase) $7.95
4-6 plants (Med. flat rate) $12.50 [wpepsc name="Medium flat rate box" price="12.95″]
6-9 plants (Lg. flat rate) $16.95 [wpepsc name="Large flat rate box" price="16.95″]
All plants can be picked up at my place given notice.
 More trees for 2016

(Visited 64 times, 1 visits today)