Plants will vary in price and container size Some will only be available during dormancy – late Fall or early Spring — and will be updated this winter. Seed or plant exchanges are always welcome!
Due to PayPal's inability to handle and charge appropriate fees for multiple combinations I decided to re-edit all my listings to a 'plant cost only.'  At the bottom of each listing page will be three shipping alternatives.
Go directly to Plants: A  B  C  D  E  F  G  H  I  J  K  L  M  N  O  P  Q  R  S  T  U  V W Y  Z

Sedums and hardy Succulents — hardy ground cover forms that can are hardy to at least z8.  These Ground Cover Succulents: Low growing or trailing succulents of various color, form, and texture. Given proper drainage most are easy to grow, spread rapidly, and give great diversity to areas of special interest. Try them in a combination to make great container plants or a smashing rock garden display.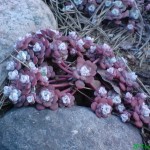 Sedum spathifolium is a plant I have encountered climbing up and down rock cliffs and shady banks from WA state to CA. I would add it to my native wildflower list for the color it adds to those rocky beach environs. There are two basic cultivars. One is S. 'Purpureum' with heavily purple-tinged leaves and the other is a bright gray leafed form named 'Cape Blanco.' Both are wonderful and I have them in two inch pots for $2.95 ea.  Both have bright yellow blooms in the summer. [wpepsc name="Sedum spath." price="2.95″]
You might also request both their inclusions in the SPECIAL six pack deal.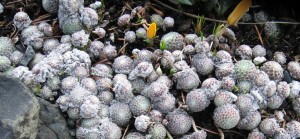 One of these must be chosen before I can ship. [wpepsc name="Single purchase" price="7.95"]1 plant (Single purchase) $7.95
4-6 plants (Med. flat rate) $12.50 [wpepsc name="Medium flat rate box" price="12.95"]
6-9 plants (Lg. flat rate) $16.95 [wpepsc name="Large flat rate box" price="16.95"]
All plants can be picked up at my place given notice.
(Visited 326 times, 1 visits today)